Optimizing your 'Google My Business' (GMB) is a great way to increase your Local SEO ranking. For those of you who don't know, Google My Business is a free and easy to use tool for your business. It essentially improves your online local listings. Having an optimized GMB can help you increase your visibility on Google Maps, Google Search and even Google+. It also appears as a Portfolio to everyone who searches for your business on Google.
When done correctly along with proper On-Page and Off-Page SEO; Google My Business will help your local website ranking skyrocket. In this blog, I am gonna tell you how to optimize your Google My Business listing to rank better, but before that let me tell you how to get started with Google My Business and set it up.
Getting started with Google My Business
Start by, visiting https://www.google.com/business and follow the following steps:
Step 1: Log into your Gmail account from the GMB page. If you do not have a Gmail account, sign up for one.
Step 2: Click on "Start Now" or "Add Location" (whatever shows up first.)
Step 3: Enter your Business Name
Step 4: Enter your Business Address
Step 4: If you are someone who delivers instead of having your customers come to you, then check the box "I deliver goods and services to my customers."
You can also hide your address by checking the box "Hide my address (it's not a store) Only show region.", if you don't want to show your address publicly.
How to optimize your Google My Business Listing and improve its ranking
Once you get your GMB listings verified, its time to feed in all of your business information and optimize your listing. Here are the 7 steps you need to follow to make your Google My Business rank better.
1) Provide accurate and complete information
It is very important that you provide accurate information in your Google My Business Listing so that Google doesn't discredit you for inaccurate information or duplicated content. Provide all the following details:
Business Hours
Address
Phone Number
Website
Services
Description of your business
2) Provide with proper category details
The category you provide in Google My Business is going to act as a keyword for your business. You can not only select up to two or more categories for your business. This will improve your chances of showing up during Google searches.
To select the proper keyword for your business, go on to Google Keyword Planner to get Keyword ideas that would best suit work the best for your business.
3) Write a good and detailed description
Google My Business also lets you add descriptions of your business in the GMB listings. Add your top keywords in the GBM description to rank better. GMB allows you to add a description of 750 characters, but only 250 characters show up on the GMB knowledge panel, so keep this in mind.
Make sure you follow the Google Business Description Guidelines. Google will review your business description before they make it live to make sure the information is accurate.
4) Get Google Reviews
According to BrightLocal's 2017 Consumer Review Survey, 85% of consumers trust online reviews as much as personal recommendations. These online customer reviews will not just help you build trust with your audience but it also helps Google figure out how to rank you among your competitors. The more reviews you have and the higher your rating are, the better you will rank.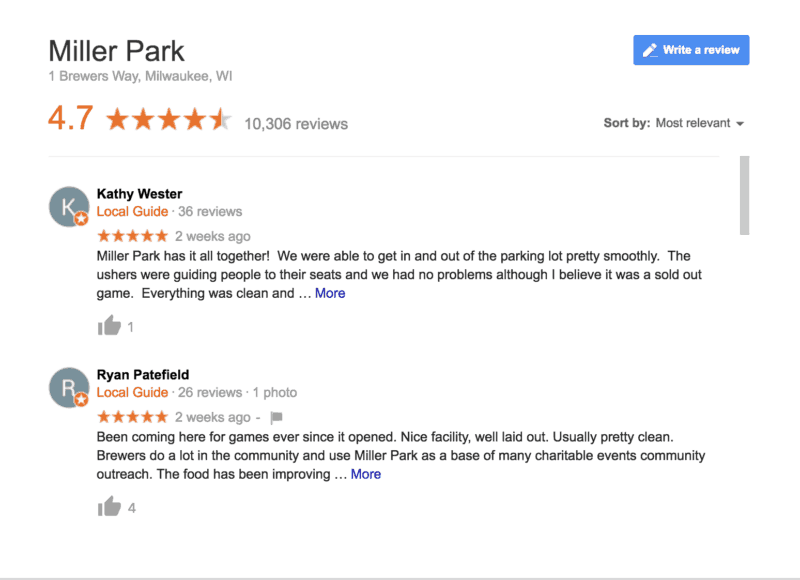 To get started, feel free to ask your loyal customers (who are most likely to give you positive feedback), to review you on Google. Start getting at least three reviews every month consistently. Get genuine reviews. When you provide good service to your customers, getting good review won't be a hassle.
To rank above your competitors make sure that you get more positive reviews than your competitor.
5) Embed Google Maps on your Website
One of the easy ways to increase your Google My Business listings rank is to embed a Google Map on your contact page or any other page on your website for that matter. Having a Google Map on your website assures Google that the address you have on your listing is accurate. This is an important factor with which Google ranks you.
Embedding Google Maps on your website is not that hard. Just search for your business name on Google Maps. Once you have found your business on the maps, click on "Share" button and then click on "Embed a map" ( which will be visible on top of the pop-up box).
Once you click on the "Embed a map", copy the 'iframe code' and paste it into your website.
6) Add Photos and Videos to your GMB
Adding Photos will not only make your business look impressive to your potential audience but it is also an important factor for Google to rank you. With the newly added feature of adding 30 seconds or shorter videos on Google My Business, it will help you stand out from your competitors.
Provide GMB with a lot of images and videos. Make sure you provide photos and videos in the following categories:
Interiors – The interior of your business in different angles
Exteriors – The exterior of your business in different angles
Customers – 
Employees at work – Shots of Employees having fun at work
Team- Group pictures of your management and staff
7) Post Regularly on GMB
Did you know that you can post statuses and pictures on Google My Business as you do in any other Social Media Platforms? Posting regularly and being consistent on Google My Business can help you stand out from your competitors.
The posts on your Google My Business panel also appears as a mini-ad to your searchers. Posting information like events, seminars, offers, news updates or even a new blog post can help improve your visibility.
These posts show up when your potential customers search for you. Use this to your advantage and start posting to attract customers.
Conclusion:
Google My Business is a great tool for improving your visibility online. Just make sure your information is accurate while following the above-mentioned steps and you will notice a significant increase in your visibility on Google. Make sure you download the Google My Business mobile app which is available for both iOS and Android. You can use the app to post regularly, update your business information and to view your business insights.
Let us know in the comments below how Google My Business has been helping you with your Local SEO.